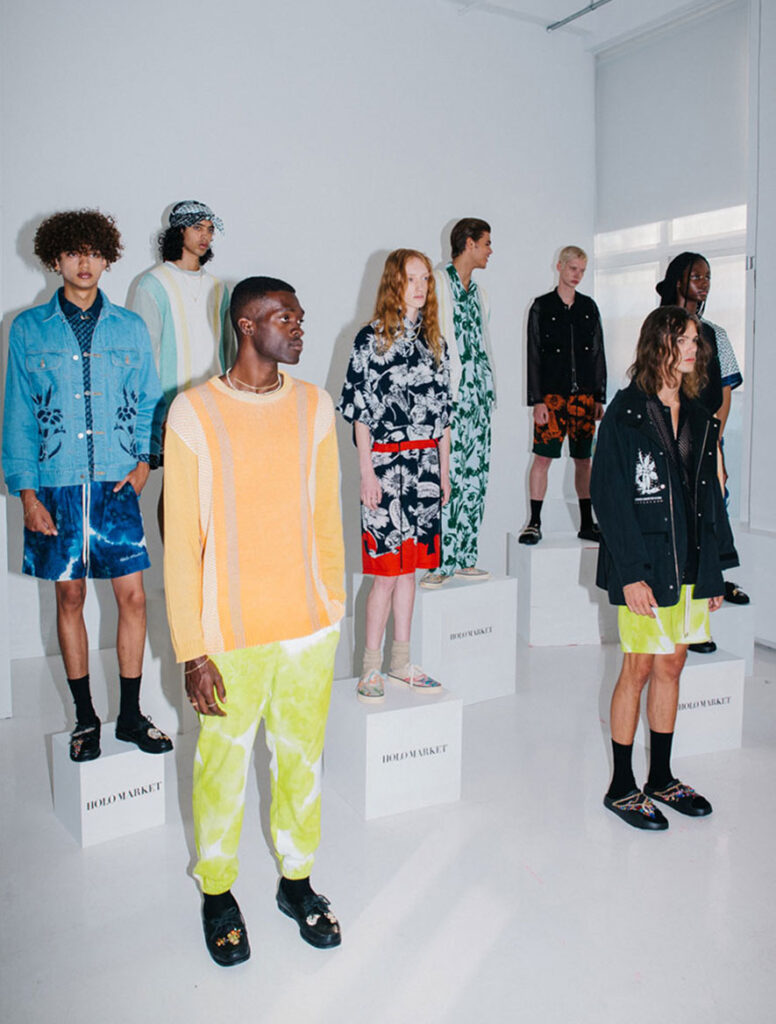 Holo Market SS23 Theme: What a Wonderful Day!
Alternating life between urban Kyoto on weekdays and Lake Biwako on weekends, Riki Yoshida was inspired by the two lifestyles of city and nature. Incorporating botanical motifs and color palettes of the great outdoors, the collection attempts to create daily wear for various occasions.
Fabric:
Energetic and colorful textiles inspired by nature, such as insects, plants, and animals, hand-printed by the designers himself.
Style Overview:
Relaxed pajama-style in fine fabrics, active wear in functional shell parkas made from our original fabric made from coffee grounds with a deodorizing effect. Hunting style in three-dimensional effect, studded swing-top setups in wool-toro material, graphic paneled resort wear, and cozy low-gauge cotton knits.
Profile:
Riki Yoshida, a hand-printing artisan, has been developing fabrics for domestic and international major brands for 15 years. In 2019 he launched 9M, a unisex wear brand at the Autumn/Winter Men's Fashion Week in Paris. Starting from Spring/Summer 23, the brand was renamed HOLO MARKET and participated in New York Fashion Week. He lives in Kyoto with his wife, two girls and two boys.
General Brand Concept:
Craftsman meets luxury abnormal uniform.
デザイナー自身が、平日は京都、週末は琵琶湖で2拠点生活を送る中で、機能的な京都の都市生活と大自然の中で生活するというところから今回のコレクションのインスピレーションを得ている。植物モチーフや大自然のカラーパレットを取り入れ、様々なシーンを想定し、ブランドが解釈するTPOで都市と自然を行き来する人物像のデイリーウェアを試みます。
ファブリック:昆虫、植物、動物といった自然からインスピレーションを受け、デザイナー自身で手捺染によって作られたエネルギッシュでカラフルなテキスタイル。
スタイル:上質な素材で仕立てたパジャマルック、コーヒーの出しカスから作られた機能的なシェルパーカーのアクティブなルック、立体的に表現されたハンティングルック、ウールトロ素材で作られスタッズが施されたスイングトップのセットアップ、パネルのグラフィックで描かれたリゾートウェア、肌触りの良いローゲージコットンニット。
プロフィール
手捺染職人でもある吉田 力が手掛けるブランド。15年間国内外のブランドのファブリック開発を手掛け、2019年AW Man Parisでユニセックスウェアーブランド9Mをスタート。23ssより、HOLO MARKETに改名しニューヨークファッションウィークに参加。
コンセプト Craftsman meets luxury abnormal uniform.
ARCHIVE
New Normal People
9M Autumn/Winter 2022 Theme and Product Details